The Fall 2010 runways were full of glorious belts. It was dreamy to see belts wrapped around fur vests, cashmere sweaters and fabulous red dresses.
The hard part is taking those beautiful looks and applying them in the everyday game of life. Fur is not always an option, cashmere can be expensive and a red dress is not always practical.
If you're scared of belts,
start with basic pieces underneath. Stick with neutral tones and buy belts in black, brown, gold and silver. A basic black dress in your closet can easily be accessorized with a black leather belt. Wear the belt at the smallest part of your natural waist. It's very slimming. I would stick with a 3 inch belt or smaller. Don't invest in an expensive belt until you get used to wearing them. I guarantee you can find fun belts for $20.
My top 3 ways to wear belts
: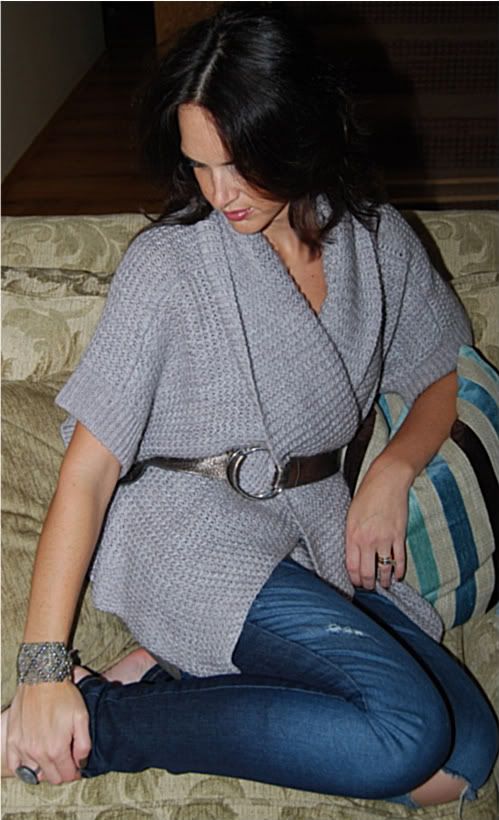 1. Over/under cardigans or blanket sweaters. If you're petite, the blanket sweater can be over powering, so add a belt to bring the waist in. I love, love a cardigan sweater with an embellished medium size belt and a riding boot. Having the belt under the sweater like it's shown, gives just a little sneak peek at the belt. Another love of mine.
2. Over a blazer is just a nice change up. Sometimes a blazer can be a bit boxy, a belt can give you more of a waist. Make sure you choose a belt that's not too wide. The shorter the length of blazer the skinnier the belt should be.
3. A simple dress can be taken up a notch with the right belt. I like a black dress with a black belt or a brown dress with a brown belt. Sound easy? IT IS!!